Current Resident: Sep 1, 2017–Nov 30, 2017
Fuyuka Shindo
In Fuyuka Shindo's practice, she confronts historical and cultural issues from a present-day perspective, often in reference to her native region of Hokkaido, Japan. She conducts research in museums and archives, looking at objects such as traditional costumes and old photographs. Most of Shindo's finished pieces incorporate elements from both the past and present, be it in the final imagery, materials used or techniques employed.
Fuyuka Shindo has shown work at the Sapporo International Art Festival; Koganecho Bazaar, Yokohama; and Hokkaidō Museum of Northern Peoples, Abashiri.
shindofuyuka.com
Residents from Japan
Yumiko Ono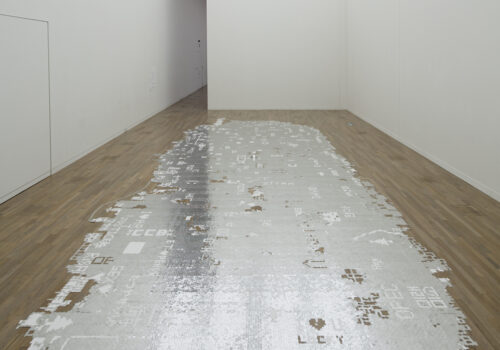 Current Resident: Jun 30, 2017–Sep 30, 2017
Yumiko Ono
Yumiko Ono is interested in form and formats. Repetition and reproduction are often seen in her work, which ranges from drawings to sculptures to videos to sound installations. Her aim is to interpret the subjects that she finds, and give them a new order through her point of view, which usually results in laconic expressions. She is currently experimenting with minimalistic geometric forms, particularly those related to the field of architecture.
Yumiko Ono is a contemporary artist who works with various media. Ono completed her BA in Oil Painting in Kyoto, Japan. She then went on to study in various countries including Hungary, Czech Republic and Israel as a government scholarship student before receiving an MA in Intermedia in the Czech Republic. She is currently completing her second MA degree in ceramics in Saint Petersburg, Russia.
yumikoono.com
Residents from Japan
Current Resident: Sep 1, 2017–Nov 30, 2017
Eli Kerr
Eli Kerr is committed to artistic practices that investigate the unfolding of technological and social modalities. His research currently observes situational and environmental risk as a relation to legacies of modernity.
Eli Kerr (born 1988) is a Canadian curator based in Montréal. With interest in architecture and agency of infrastructures, Kerr co-founded VIE D'ANGE with Daphné Boxer in 2016. Their exhibition program borrows devices from theatre to explore the internalization of economic and historical complexities within a shifting built environment.
viedange.club
Residents from Canada