Residency Programs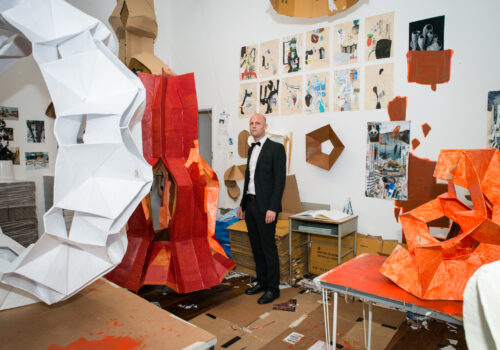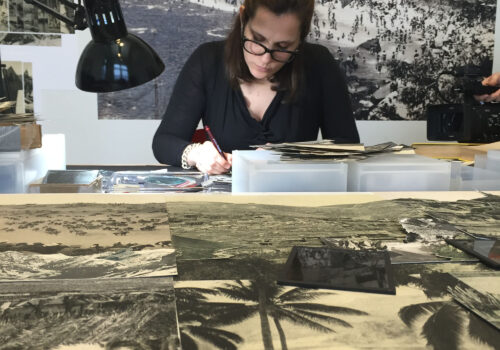 At the International Studio & Curatorial Program (ISCP) each artist and curator is provided with a private and furnished studio space and 24-hour access to all communal facilities. While ISCP does not provide accommodation, most International Program sponsorships include stipends for living expenses, travel, materials and housing. All residents at ISCP are encouraged to take advantage of the in-house community of artists and curators, offering invaluable international and local networks, professional conversations and critique.
An International Program residency at ISCP is typically three to six months, although artists and curators can apply for up to one year. While in the International Program, all residents are invited to participate in a number of activities in and outside of ISCP including the four core program activities: Visiting Critics, Field Trips, Salons and Open Studios.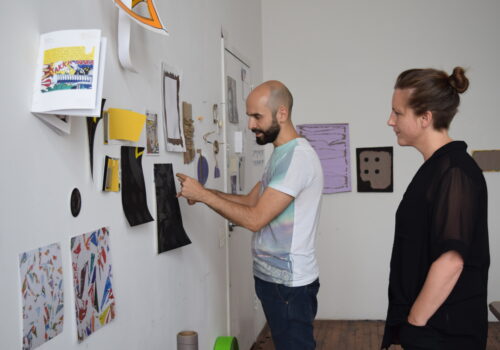 Visiting Critics
The Visiting Critic series is the hallmark of ISCP's residency program. It introduces residents to professionals from museums, galleries, alternative spaces and publications within the context of a studio visit, generating critical feedback from diverse positions.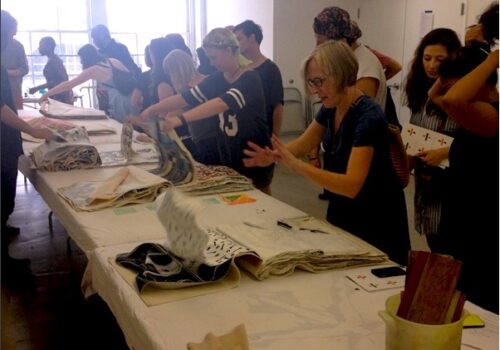 Field Trips
ISCP organizes visits to museums, galleries, alternative spaces, archives and other places of interest to art professionals. Often, a curator or staff member introduces the institution's mission and program. Past Field Trips have included the Philadelphia Museum of Art, the Conservation Department at MoMA, Dia:Beacon, Art Omi, art spaces in SoHo and on the Lower East Side, private collections and many other institutions in Greater New York.
Open Studios
Twice a year, in April and November, ISCP hosts two-day Open Studios, presenting work by the 35 ISCP artists and curators in residence, accompanied by performances, panel discussions and exhibitions. During Open Studios, residents present recent projects, work in progress, site-specific installations and their archives to thousands of professionals and art enthusiasts from New York and beyond.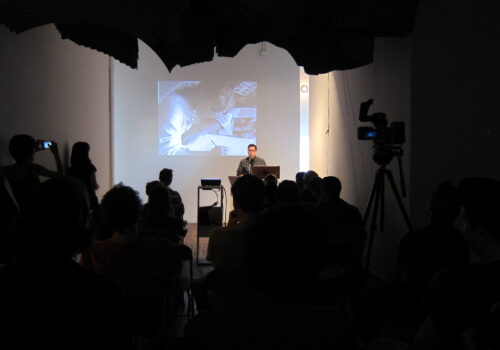 Artists at Work
Residents at ISCP are invited to present their recent work in monthly public 'Artists at Work' presentations. These events feature lectures, screenings and performances, and introduce the work of ISCP artists and curators to the New York art community.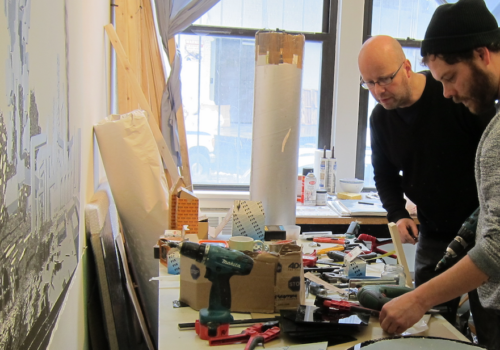 Studio Assistant Program
ISCP welcomes BFA and MFA students who wish to gain direct experience working with emerging and established international artists. This program has grown from a small group of volunteers to a mentorship serving over thirty young artists and an equal number of ISCP residents annually. Participants not only work one on one with residents on production and research, they also benefit from being a part of the ISCP artistic community, attending artist talks, Field Trips and have access to professional development opportunities.
This program is for artists who are in residence for four months or longer.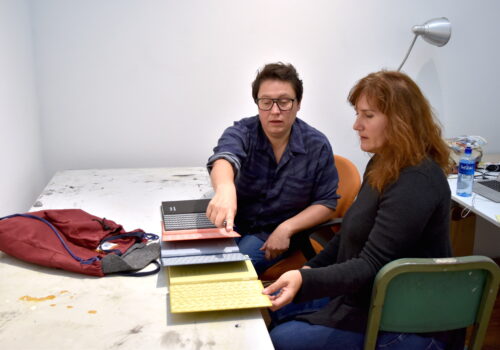 Resident Advisors Committee
The Advisory Program was launched in September 2015 with the goal of initiating long-term relationships between residents and art professionals. Advisors are paired with eight to ten artists and curators in residence annually for studio visits to exchange dialogue and feedback. This new format allows for a deeper and more sustained engagement with the practices of the residents. Advisors include Nova Benway, Assistant Curator, The Drawing Center; Dan Cameron, Curator, 13th Cuenca Biennial; Mary Ceruti, Executive Director and Chief Curator, SculptureCenter; Susan Cross, Curator of Visual Arts, MASS MoCA; Alhena Katsof, Independent curator; Sara Raza, Guggenheim UBS MAP Curator, Middle East and North Africa; Carol Squiers, Curator, International Center of Photography; Christopher Phillips, former Curator, International Center of Photography; and Lumi Tan, Curator, The Kitchen.
The Ground Floor residency is a one-year program that offers subsidized workspace and professional development for New York City-based artists. Launched in 2015, Ground Floor at ISCP takes place on the first floor of ISCP in tandem with ISCP's acclaimed international residency program, forming an integral part of the dynamic, in-house fusion of artists and curators from all over the world.
Throughout the year, ISCP organizes professional development activities specifically for Ground Floor artists, including quarterly individual artist advisory meetings. Artist advisors for 2017 are Polly Apfelbaum, Jim Hodges, Alex Villar and Michael Portnoy. In addition, Ground Floor artists are invited to make proposals for ISCP's project space have their exhibition and other activities posted periodically on ISCP's social media platforms.
Apply
International Program at ISCP
Artists and curators from anywhere in the world, including the United States, can apply for International Program residencies at ISCP.
For the Ground Floor program and open calls, please scroll down.
There are three ways of applying to the International Program: 1) a partner application 2) by ISCP open call or 3) a direct application.
These residencies are generally between three and twelve months and are sponsored by governments, corporations, foundations, institutions, organizations, galleries and private patrons. Each artist or curator is provided with 24-hour access to his or her studio, and free wireless internet. In addition, all residents can use ISCP's common areas. ISCP does not provide or arrange living accommodation, however, a number of partner sponsors, who send participants to ISCP each year, have furnished apartments for residents. In addition, sponsors often give a stipend for accommodation, living expenses, travel and materials.
Partner application
ISCP collaborates with over forty partner governments, institutions and organizations to fund residency opportunities. Partner sponsors publicly call for applications for residencies at ISCP.
Over the course of the year, ISCP holds various open calls. Open calls are often sponsored by partner sponsors and are fully funded. Applicants will apply to ISCP directly meeting the specific parameters of the open call application and its process. Please check our open calls page regularly for more information and opportunities.
Direct application
If you wish to apply directly to ISCP, please read the information below carefully:
Please email the application form and supporting materials to application@iscp-nyc.org. ISCP does not locate sponsors for direct applicants.
Once accepted, artists and curators are responsible for securing funding. Please have a look at our previous sponsors for potential funding sources.
When planning your residency, please bear in mind that residencies are scheduled approximately one year in advance. We are currently scheduling 2018-2019.
There is no deadline and the application review takes place once every two months.
ISCP does not accept applications from artists or curators currently enrolled in school.
ISCP requires that artists and curators in residence are highly proficient in spoken and written English.
The following steps must be taken in the order below before an applicant can be accepted into ISCP's International Program:
Application is sent to ISCP.
ISCP's panel reviews the application within two months.
If the application is successful, the applicant receives an acceptance letter.
Applicant has two years from the date of the acceptance letter to locate funding.
When funding has been secured by applicant, ISCP confirms directly with sponsor. Residencies cannot be self-funded or crowdfunded.
When sponsor has confirmed, ISCP staff and applicant schedule residency.
If necessary, applicant must apply for a US visa (see below).
Applicant makes appointment with ISCP staff and arrives in New York.
The program fee for 2017 is $23,637.48 to $25,827.36 per year or $1,947.29 to $2,152.28 per month. The program fee for 2018 is $24,068.52 to $26,602.20 per year or $2,005.71 to $2,216.85 per month. In addition, the applicant needs to calculate accommodation, living, travel and health insurance costs for the duration of their stay in New York.
Addendum for foreign applicants regarding visa application:
Once a contract has been signed between the sponsor and ISCP, residents should immediately begin the process of securing a visa to enter the United States. The U.S. State Department's consular website can be checked to confirm visa eligibility and requirements: http://travel.state.gov/
ISCP recommends making contact immediately with the nearest United States Consulate or Embassy in the resident's home country. ISCP residents generally enter the United States on a B1/B2 visa, which is issued for business/tourist purposes. ISCP will provide a letter in support of the visa application to incoming participants.
Please fill out and email the downloadable application form along with your supporting materials to application@iscp-nyc.org.
Applications must be submitted as a single PDF. Please include all the supporting materials below in one document by email. 
Make sure to attach the following supporting materials in your application:
Curriculum Vitae.
Preferably a PDF of 10 images (no more than 10mb total) OR 10 images in JPEG (*.jpg) format up to 2mb each – you may also send a link to the files.
Maximum 2 video links (if applicable).
Scanned copies of 2-3 reviews.
Scanned copies of catalogs (hard copy is accepted by mail for monographs only).
Scanned copies of two letters of recommendation from art professionals signed and printed on letterhead (in English).
Brief project description (curators only).
Applications should be emailed to application@iscp-nyc.org.
Applicants will receive a confirmation of receipt and will hear from ISCP's review panel within two months.
If you should experience technical difficulty or have any questions about applying for the residency program at ISCP, please email Alexandra Friedman, Program Coordinator, afriedman@iscp-nyc.org.
Upcoming Application Deadlines
Jun 4, 2018
Open Call: SAHA – Supporting Contemporary Art from Turkey
Turkey
The International Studio & Curatorial Program (ISCP) in Brooklyn, New York announces an open call for a fully-funded residency for an artist from Turkey supported by SAHA – Supporting Contemporary Art from Turkey. ISCP is currently accepting the applications of artists from Turkey who would like to engage with ISCP's dynamic programming and creative community. 

The residency will take place between October 1 – December 31, 2018 and includes participation in all of ISCP's residency program activities; plus a private studio space, a stipend for accommodation and living expenses in New York City, and related travel costs. Alumni of the SAHA residency at ISCP include Güneş Terkol (2013), Burak Delier (2014), Emre Hüner (2014), Belit Sağ (2016), and Cem Dinlenmiş (2017).

ISCP is a leading nonprofit, residency-based contemporary art institution for emerging to mid-career artists and curators from around the world, including the United States. With 35 artists and curators in residence at all times, the program provides residents with the space, time, and support to develop new projects. With additional activities tailored for professional development and public engagement, ISCP serves as an important platform for producing, presenting and contextualizing contemporary art through a diverse range of international perspectives. ISCP's public programs encourage dialogue and integrate residents into the cultural landscape of New York City. The residency includes 24-hour access to a private 300 sq. ft. furnished studio space, regular studio visits from Visiting Critics and an appointed Advisor; Field Trips to museums, galleries and other cultural venues; and participation in Artist Talks and Open Studios. Residents at ISCP are also invited to take part in ISCP's Exhibition Program and Offsite Projects.

Applications are accepted by email only to ISCP and the deadline is June 4, 2018. The recipient will be notified by June 8, 2018.

The stipend up to 7,000 USD in total will include accommodation, living expenses and related travel costs and the grantee is responsible for making all arrangements related to travel and accommodation.

*Artists who have not previously lived or worked in New York will be given priority.

About SAHA:
SAHA is a non-governmental organization established in 2011 by a group of art enthusiasts united around the shared goal of supporting contemporary arts from Turkey. SAHA directly collaborates with international arts institutions for the realization of commissioned or invited projects; acts as a facilitator in the project development phase and raises funds if and when necessary. SAHA aims to improve the production and presentation infrastructure of artists, curators, and critics working in the field of contemporary art and to enhance their interactions with international networks.

To date, SAHA supported the production of art works and publications, reaching out to 375 artists and curators in total of 119 projects. SAHA has no authority over the content of the works that are funded, claims no ownership. Recent collaborations with institutions include, Ashkal Alwan, Chisenhale Gallery, Drawing Center, la Biennale di Venezia, and Witte de With. In addition to funding projects, SAHA operates a residency program in Istanbul that allows curators and art professionals to deepen their research on Turkey's contemporary artistic production. The program provides short term accommodation, guidance, and assistance in meeting the local artistic community.

The independence and sustainability of SAHA is secured through a collective approach. SAHA is funded by 130 individual members, including a subgroup of 20 young contributors. Borusan Holding, Eczacibasi Holding, Garanti Bank and Karadeniz Holding are corporate supporters of SAHA.

May 26, 2018
Open Call: Summer Residencies at ISCP for Art Faculty
United States
The International Studio & Curatorial Program (ISCP) welcomes applications from art faculty at colleges and universities from across the United States for summer residencies in Brooklyn, New York. Practicing artists who teach at the university-level are encouraged to apply.

Each residency includes 24-hour access to a private 300 sq. ft. studio space in Brooklyn, studio visits from visiting critics and an appointed advisor; field trips to museums, galleries and other cultural venues; and participation in artist talks. In addition, residents have the opportunity to work with a studio assistant, develop projects in the public realm with the support of ISCP staff, and are considered for ISCP's exhibition program. Residents become part of a growing network of international artists and curators who are ISCP alumni that includes prominent artists such as Kevin Beasley, Elmgreen and Dragset, Claire Fontaine, Theaster Gates, Camille Henrot, Yeondoo Jung, Chi Wo Leung, Maider Lopez, Carsten Nicolai, Jacolby Satterwhite, Tatiana Trouvé; and curators Vit Havránek, and Aneta Szylak.

The selection committee will review applications based on quality, originality and artistic merit. Other consideration factors are: the potential impact of the residency on the applicant, the applicant's past accomplishments, and preparedness to undertake the residency. The timing of this residency comes at a opportune time for art faculty with full-time positions, as this summer residency, June – August, makes it possible to participate in the program between academic years.

Selected individuals will be awarded residencies with the understanding that they will apply to their institutions for development grants or to other funders to sponsor their program participation, travel, living and materials expenses. The ISCP Program fee is approximately $2,220 per month and does not include travel, accommodations and materials.

Application deadline: Rolling with October 20, 2017 priority deadline for summer 2018 residencies.

Please use the application form attached and submit to application@iscp-nyc.org indicating "Summer Residencies" in the subject line.

There is no fee to apply.

Jun 1, 2018
Jane Farver Curatorial Residency at ISCP
United States
RESIDENCY DATES: December 1, 2018 - February 28, 2019

LOCATION: International Studio & Curatorial Program (ISCP), 1040 Metropolitan Ave, Brooklyn, NY 11211

DESCRIPTION

The International Studio & Curatorial Program (ISCP) is pleased to announce an open call for a fully-funded three-month residency for a curator from the Global South, including a stipend for travel and housing, supported by the Jane Farver Memorial Fund.

In order to be eligible, curators must currently be a full-time resident of and have an active curatorial practice in one of countries listed below. The residency program includes 24-hour access to a private furnished office space; meetings with Visiting Critics; field trips to museums, galleries and other cultural venues; and participation in a public talk. The residency also includes funding to curate and produce an exhibition in ISCP's 350 sq. ft. Project Space during early 2019. Proposals for the exhibition can be for either solo or group exhibitions, in a range of media. ISCP residents become part of a growing network of international artists and curators who are ISCP alumni. An ISCP residency has often led to critical advancement in the practices of the artists and curators in residence, and fosters a dynamic, supportive working community.

Other requirements include a working knowledge of English, being onsite at ISCP 20-hours per week, and conducting studio visits with the artists (and curators) in residence in the International Program.

The Jane Farver Memorial Fund has received support from the Lambent Foundation Fund of Tides Foundation, Cai Guo-Qiang, John L. Moore, kimsooja, Carolee Thea, Jennifer Bansen, Jennifer Wen Ma, and Alfredo Jaar.

ABOUT JANE FARVER

This residency honors ISCP's trustee Jane Farver (1947-2015), pioneering American curator and writer, who is globally recognized as a champion of contemporary artists, especially those working outside mainstream Western art historical canons. Among her best-known projects was the 1999 exhibition, Global Conceptualism: Points of Origin 1950s-1980s, organized while she was Director of Exhibitions for the Queens Museum from 1992-1999, and which traveled to the Walker Art Center, Miami Art Museum and MIT List Visual Arts Center. Other presentations she curated at the Queens Museum include Across the Pacific: Contemporary Korean and Korean American Art; Cai Guo-Qiang, Cultural Melting Bath: Projects for the 20th Century; and Out of India: Contemporary Art of the South Asian Diaspora. From 1999 to 2011, Farver was director of the List Visual Arts Center at MIT, where she organized solo exhibitions and projects by artists including Mel Chin, Michael Joo, Paul Pfeiffer, Runa Islam, and Tavares Strachan. Among numerous biennials, Farver curated the Incheon Women Artists' Biennale in South Korea in 2011, and she was co-commissioner of the American artist Paul Pfeiffer at the 9th Cairo Biennial, and was one of six curators of the 2000 Whitney Biennial. Farver's early career began in Cleveland, where she was director of Spaces, then she moved to New York where she was director at Tomoko Liguori Gallery, followed by directorship of the Lehman College Art Gallery in the Bronx. Her husband, the American artist and curator John L. Moore, has played an instrumental role in supporting ISCP's efforts to build a residency in Jane Farver's honor.

APPLICATION PROCEDURE

Please submit the following to application@iscp-nyc.org by Friday, June 1, indicating "Jane Farver Curatorial Residency" in the subject line:

Application Form (attached)
Applicants must provide the following information: name; date of birth; place of birth; mailing address; telephone number; email address; and ethnicity.
 curriculum vitae
 images and descriptions of past curated projects or authored texts
 scanned copies of 2-3 reviews (if applicable)
 brief proposal for the ISCP exhibition in 2019 including images and artist name(s), 500 words max
 short description of how you envision your time at ISCP, 300 words max
 proof of residence in one of the eligible countries

ELIGIBILITY: Curators living in and from the Global South are invited to apply. Applicants may not be ISCP alumni, residents in another studio program at the same time as the Jane Farver Curatorial Residency, or enrolled in school.

SELECTION: The selection committee reviews applications based on past accomplishments and curatorial innovation. Other consideration factors are: the potential impact of the residency on the applicant and preparedness to undertake the residency and proposed project.

Interviews with finalists will be held by the selection committee.

NOTIFICATION: Curators will be notified by June 29, 2018.

Eligible countries:

Asia / Pacific
Afghanistan, Bangladesh, Bhutan, Brunei, Cambodia, China, Fiji, India, Indonesia, Iran, Kiribati, Laos, Malaysia, Maldives, Marshall Islands, Micronesia, Mongolia, Myanmar, Nauru, Nepal, Pakistan, Palau, Papua New Guinea, Philippines, Samoa, Solomon Islands, Sri Lanka, Thailand, Timor-Leste, Tonga, Tuvalu, Vanuatu, Vietnam

Arab States
Algeria, Bahrain, Comoros, Djibouti, Egypt, Iraq, Jordan, Kuwait, Lebanon, Libya, Mauritania, Morocco, Oman, Palestinian Territories, Qatar, Saudi Arabia, Somalia, Sudan, Syria, Tunisia, United Arab Emirates, Yemen

Africa
Angola, Benin, Botswana, Burkina Faso, Burundi, Cameroon, Cabo Verde, Central African Republic, Chad, Democratic Republic of the Congo, Republic of the Congo, Cote d'Ivoire, Equatorial Guinea, Eritrea, Ethiopia, Gabon, The Gambia, Ghana, Guinea, Guinea-Bissau, Kenya, Lesotho, Liberia, Madagascar, Malawi, Mali, Mauritius, Mozambique, Namibia, Niger, Nigeria, Rwanda, Sao Tome and Principe, Senegal, Seychelles, Sierra Leone, South Africa, South Sudan, Swaziland, Tanzania, Togo, Uganda, Zambia, Zimbabwe

South / Latin America
Antigua and Barbuda, Argentina, Aruba, The Bahamas, Barbados, Belize, Bolivia, Brazil, Chile, Colombia, Costa Rica, Cuba, Curacao, Dominica, Dominican Republic, Ecuador, El Salvador, Grenada, Guatemala, Guyana, Haiti, Honduras, Jamaica, Mexico, Nicaragua, Panama, Paraguay, Peru, Puerto Rico, Saint Kitts and Nevis, Saint Lucia, Saint Vincent and the Grenadines, Sint Maarten, Suriname, Trinidad and Tobago, Uruguay, Venezuela, British Virgin Islands, U.S. Virgin Islands

Commonwealth of Independent States
Armenia, Azerbaijan, Belarus, Georgia, Kazakhstan, Moldova, Kyrgyzstan, Tajikistan, Turkmenistan, Ukraine, Uzbekistan

The above list is gleaned from numerous websites, below. If you do not see your country but believe you are from the Global South, please inquire to aalbuainain@iscp-nyc.org

(http://www.globalsouthproject.cornell.edu/about.html
http://ihgc.as.virginia.edu/mellon-global-south-initiative
https://www.academia.edu/7917466/The_Use_of_the_Concept_Global_South_in_Social_Science_and_Humanities
kups.ub.uni-koeln.de/6399/1/voices012015_concepts_of_the_global_south.pdf
https://www.rgs.org/NR/rdonlyres/6AFE1B7F.../60sGlobalNorthSouthDivide.pd)

Browse other sponsors from this country
Ground Floor at ISCP for New York City Artists
The Ground Floor Program, geared exclusively for New York-based artists, provides one year of private studio space accessible 24/7, and additional program offerings.
Ground Floor applications for 2018 are now closed.
RESIDENCIES: Twelve-month residency: January 1, 2018–December 31, 2018.
DESCRIPTION: ISCP's first residency program developed specifically for New York City-based emerging artists was launched in 2015. This program offers up to seven year-long residencies that include a partially subsidized studio in East Williamsburg and access to professional development programs. The residencies take place within the same building as ISCP's acclaimed international residency program, and artists have access to ISCP's dynamic, in-house community of artists and curators from all over the world.
This program offers much-needed workspace to New York City artists, while expanding ISCP's international community to include local artists. Artists working across all disciplines are encouraged to apply. Collectives can also apply to share a large studio and related costs. If accepted, artists must provide proof of New York City residency (e.g. income tax returns or utility bills) for the past two years.
Separate from ISCP's international residency program, where residents are fully sponsored, the New York City-based artist studios, from 200-350 square feet in size, will cost $721-927 per month for a private studio. Shared studios are $463.50 per month. Artists may apply as a non-collaborative pair to share a studio, or apply as an individual for a shared studio organized by ISCP. This includes 24-hour access to a furnished studio, kitchen and lounge, WiFi, administration and all utilities. Artists will have quarterly studio visits with established New York based artists. Ground Floor residents will receive invitations to numerous private social gatherings of the ISCP community. Artists will be eligible to propose a solo exhibition for ISCP's Project Space annually. Ground Floor Artists will have the option to renew their studio for a second year. ISCP welcomes new and past applicants who formerly applied to the program.
Ground Floor is supported by Yoko Ono, Alice and Lawrence Weiner, Danna and Ed Ruscha, New York City Department of Cultural Affairs, in partnership with the City Council, New York City Council District 34, and The Jacques and Natasha Gelman Foundation.
Please contact Program Coordinator Alexandra Friedman with questions at afriedman@iscp-nyc.org.