Sonia Leimer
In her installations, Sonia Leimer explores our perceptual foundations, which are formed on the basis of individual, historical, and media-related patterns of experience. As products of concrete historical contexts, rooms and objects undergo a transformation in which history and societal changes become palpable.
Sonia Leimer lives and works in Vienna. She studied architecture at the Technical University of Vienna and the Academy of Fine Art Vienna. From 2007 to 2012, she hosted a radio titled City and the Image. She taught at the Academy for Art and Photography together with Martin Guttmann from 2012–2016. Leimer exhibited her work internationally at Leopold Museum, Vienna; Galerie nächst St. Stephan, Vienna; Ludwig Forum für Internationale Kunst, Aachen; Barbara Gross Galerie, Munich; Los Angeles Museum of Art; 5th Moscow Biennial; artothek, Cologne; Museion – Museum of Modern and Contemporary Art of Bozen, Italy; MAK Center for Art and Architecture, Los Angeles; Kunstverein Basis, Frankfurt; BAWAG Contemporary, Vienna; Salzburger Kunstverein; and Manifesta 7, Rovereto.
Residents from Italy
Paolo Bini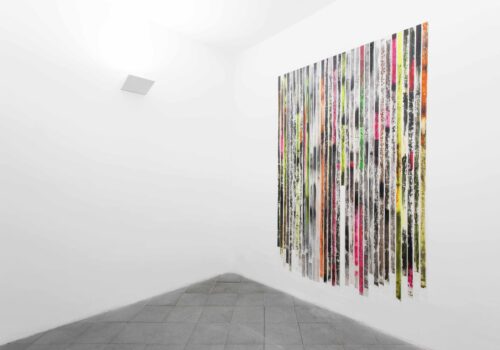 Betty Yu
Betty Yu is an interdisciplinary artist who uses multimedia platforms to tell the stories of marginalized, underrepresented and underserved people. Her creative work is influenced by her direct experience as a daughter raised by immigrant garment worker parents. In her artwork, Yu approaches social issues through personal stories, family narrative and community history. Her work has explored issues ranging from labor rights, immigrant justice, militarism and housing equity. In the past several years, Yu's art projects and installations have allowed her to engage with directly impacted communities through onsite installations, projections, participatory workshops and media production.
Betty Yu is an interdisciplinary artist, filmmaker, educator and activist. She co-founded the Chinatown Art Brigade, a cultural collective telling anti-gentrification stories of Chinatown tenants through public projections. She holds a BFA from New York University's Tisch School of the Arts and a MFA in Integrated Media Arts from Hunter College. Yu's multi-media installation, The Garment Worker was featured at Tribeca Film Institute's Interactive. She co-created Monument to Anti-Displacement Organizing, which was on view at the Agitprop! group show at Brooklyn Museum. Yu is a 2016 A Blade of Grass Fellow for Socially Engaged Art and received the 2016 SOAPBOX Artist Award from the Laundromat Project. She has received funding for her projects from foundations including the Paul Robeson Fund, Brooklyn Arts Council, and Art Matters.
Residents from United States
Bita Razavi
Bita Razavi's practice is centered around observations and reflections on variety of everyday situations and is highly influenced by where she is based at the time. She examines the inner workings of social systems in relation with the political structures and national events of historic proportions in various countries. While socio-political observation is at the core of her practice, the dialectic between bringing what is personal to the public sphere, and the impossibility of total exposure because of law or social pressure, creates a secretive feel in some of her pieces. In her recent works she reacts to, and explores, the agency of the objects and the systems as they act upon her, and as she documents and records them.
Bita Razavi (born Tehran, 1983) lives and works between Helsinki and Metsakivi, Estonia. She graduated with a Bachelor's degree in Music from Tehran Art University and holds a Masters in Fine Art from the Finnish Academy of Fine Arts, Helsinki. She has exhibited her work at Tehran Museum of Contemporary Art, 1st Trondheim Biennale, Finland, Finnish Museum of Photography, XV Biennale de la Méditerranée, Thessaloniki, Helsinki Photography Biennale, Design Museum, Helsinki, Videobrasil, SESC Pompeia, Cité international des Arts, Paris, Fotografisk Center, Copenhagen, Göteborg International Biennal for Contemporary Art, and National Art Museum of Ukraine.